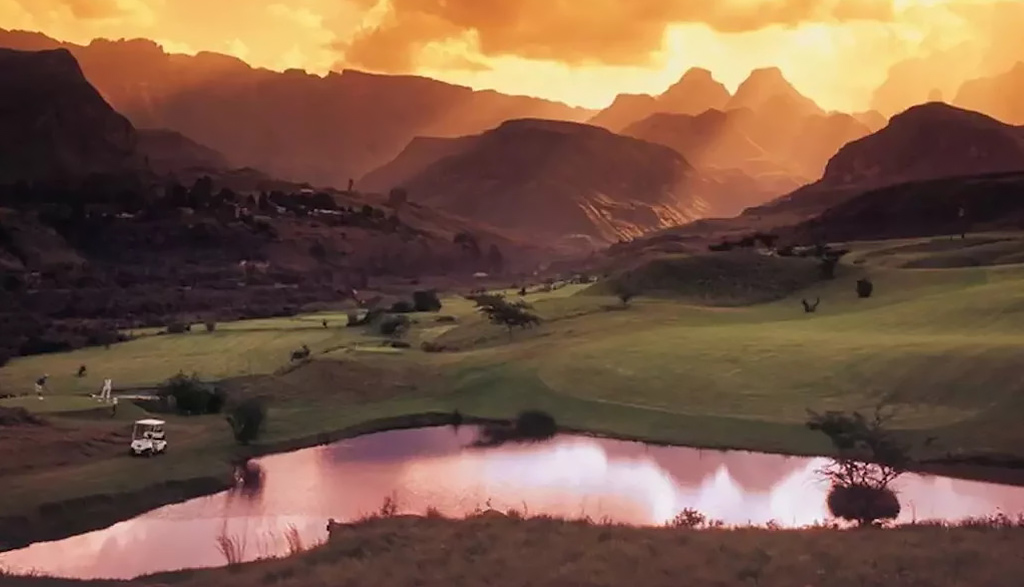 Cathedral Peak – Didima Resort
Didima lies within the Cathedral Peak valley of the Maloti-Drakensberg Park World Heritage Site. It is set in the Drakensberg foothills, offering stunning views onto the towering peaks of the 'Berg, and is surrounded by scenically beautiful grasslands, streams, waterfalls and craggy cliffs.
Didima celebrates the now-lost culture of the San people and captures an element of their oneness with nature. The accommodation style and layout follow a symbolic expression of the San (or Bushmen) culture and way of life.
Didima Resort's restaurant and bar provides guests with the option of fully catered meals in its warm and relaxed atmosphere.
2 Bed Chalets (Non Self-catering)
Inter-leading unit with kitchenette, bedroom, and bathroom. There are no cooking facilities.
2 Bed Chalets (Self-catering)
Inter-leading fully equipped unit with kitchen, bedroom, and bathroom. Stove plate only.
6 Bed Chalet (Self-catering)
One six-bed fully equipped chalet with three bedrooms, en-suite facilities, a lounge, dining room and a kitchen.
4 Bed Chalets (self-catering)
There are two four-bed fully equipped chalets with two bedrooms, en-suite facilities, a lounge, dining room and kitchen.
Honeymoon suite
Self-catering and fully equipped, consists of kitchen, lounge, bedroom, and bathroom.
Frequently Asked Questions
Activities:
Cathedral Peak is a hikers' paradise, with its many hikes
A local map with details on eight different walks is available at the reception office.
Didima offers a tennis court and swimming pool for exclusive use by guests.
The Mountain Rescue Register situated at reception must be completed before you begin your hike/walk and make sure you sign out again when you return.
Please ensure that you complete the mountain rescue register correctly and in detail.
General:
No pets are permitted in the reserve.
Entrance gate is open 24 hours a day.
Basic foods and provisions are available at the curio shop (open 08:00-16:00 daily)
Self-catering units do not have ovens.
Petrol may be purchased at the Cathedral Peak Hotel, which is situated 4 km away
Limited DSTV channels are available in the chalets.
All units have fire places and wood can be purchased at curio shop.
Any Questions?
We would be more than happy to help you. Give us a call or email us, and we will get back to you asap.
021 8135868
travel@toursa.com