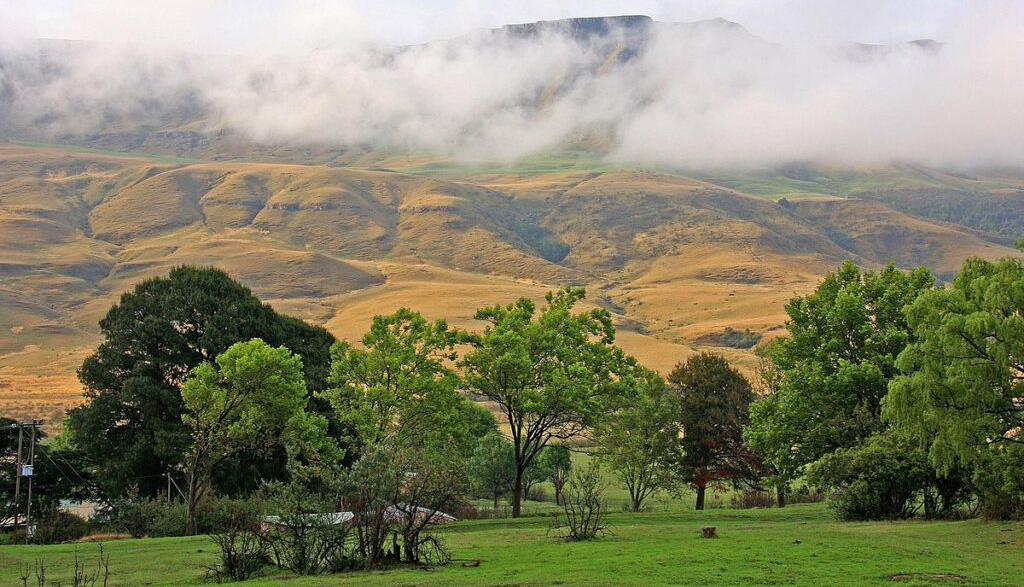 Kamberg Nature Reserve
Kamberg Nature Reserve, with its picturesque resort, lies in the central part of the Maloti-Drakensberg Park World Heritage Site. The Mooi River runs through the nature reserve, adding significantly to the Kamberg experience by adding fly-fishing to the list of activities.
2 Bed Chalet (Self-catering)
Fully equipped open plan bedroom and kitchen (2 plate stove only), with a separate bathroom. There is a communal lounge.
6 Bed Chalet (Self-catering)
Fully equipped unit with a lounge/dining room, kitchen, three bedrooms and a bathroom.
Frequently Asked Questions
Trout Fishing:
Trout fishing is available in Eland and Erskine Dams which are open to anglers all year round.
Mooi River has excellent seasonal trout fishing.
Anglers may only use the correct fly fishing tackle and required to pay a rod fee at the reception.
Rods are available for hire from the reception office.
San Rock Art:
Trained guides are available to take visitors to Game Pass Shelter (3 hours walk)
Bookings can be made in advance through reception.
Hikes:
There are numerous scenic walks throughout the area ranging from short walks to all day hikes.
The Mountain Rescue Register must to be completed before you begin your hike.
Make sure correct details are filled in case of a rescue and ensure you sign on your return.
Game Viewing:
Wildlife occurring in the reserve includes reedbuck, mountain reedbuck, blesbok, black wildebeest, grey rhebuck, eland, duiker, red hartebeest and oribi.
Gate Times:
Summer (1 October - 31 March) 05:00 - 19:00
Winter (1 April - 30 September) 06:00 - 18:00
Check In Times:
Check in from 14:00
Check out by 10:00
General:
No petrol available in the resort. The nearest supplies are obtainable at Rosetta, 42 km away.
Office hours are between 08:00 - 16:00 daily, but closed between 13:00 - 14:00.
The curio shop at the reception office supplies basic foods and some essentials.
No pets are allowed into the reserve.
No plug points for electric razors are available.
The communal lounge has a large freezer and DSTV available to visitors.
All units have fireplaces, wood may be purchased at the reception.
Any Questions?
We would be more than happy to help you. Give us a call or email us, and we will get back to you asap.
021 8135868
travel@toursa.com