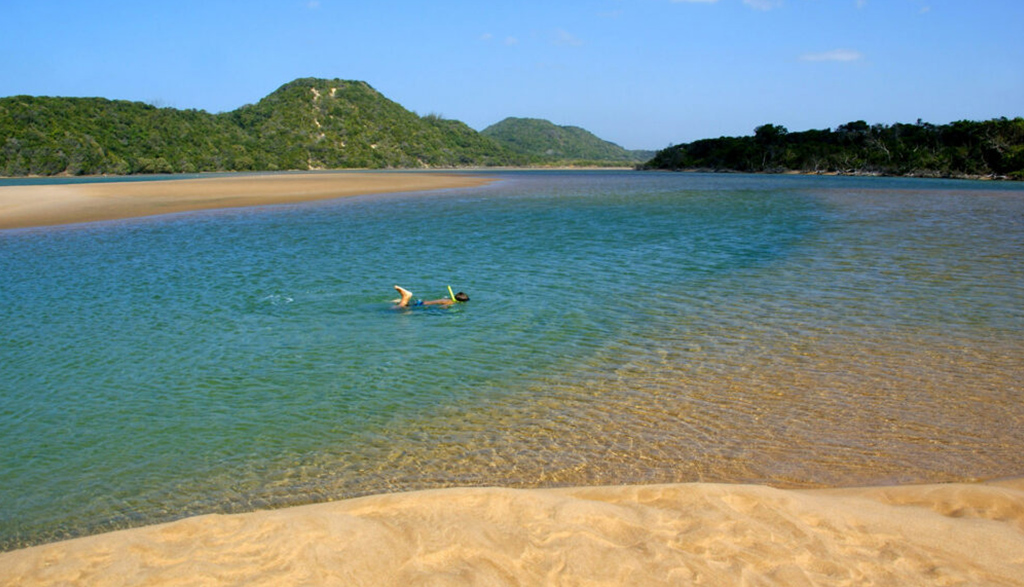 Kosi Bay
Kosi Bay lies on the coast in the top northeast corner of KwaZulu-Natal and forms part of the iSimangaliso Wetland Park World Heritage Site.
Kosi Bay Resort is located along the north-western shore of Lake Nhlange, the largest of the four lakes. The Kosi system is home to a large variety of birds and animals including hippo and crocodile.
Humpback whales are seasonal offshore visitors, as are leatherback and loggerhead sea-turtles that come ashore to nest on the beaches from November to January.
2 Bed Chalet (iGowane)
Fully equipped and self-catering unit. Open plan lounge kitchen and bedroom, with a bathroom.
5 Bed Chalet (uMdoni)
Fully equipped and self-catering unit with a kitchen, lounge, two bedroom and a bathroom.
6 Bed Chalet (uGudu)
Fully equipped and self-catering unit with a kitchen, lounge, three bedroom and three bathrooms.
Campsites
There are 5 campsites situated near the lakeshore which are booked at a premium rate and 10 campsites that are situated away from the water. All campsites have electric plug points. Ablutions with hot and cold water are available.
Frequently Asked Questions
Fishing:
Shore angling is only permitted from within the campsite, off shore angling in the Lake only.
It is essential that fishermen provide their own boat, only people with valid Sheltered Waters Skippers Tickets may launch their boats at Kosi Bay.
Fly fishing is becoming more popular and "tag and release" is encouraged with all anglers.
Please be aware of size and bag limit restrictions.
Spearfishing is not permitted within the Lake System, including Kosi Mouth.
A fishing permit is required to fish within the Lake system as well as from the beach in the Maputaland Marine Reserve.
Snorkelling:
The reserve offers a unique snorkelling experience within a reef, situated inside the mouth of the Kosi system.
Vehicle access is only possible with a 4x4 and only with a permit which may be obtained from the reception office.
Turtle Tours:
Turtle tours are offered from November to January. Bookings essential with concession holders.
Enquiries can be made at Kosi Bay reception office. It is an offence to disturb the turtles or any scientific equipment that you may come across on the beach.
>
Gate Times:
Gate opening times: 06:00 - 18:00 all year round.
Check-in Times:
Check in after 12:00 on arrival and must vacate by 10:00 on the day of departure.
Permits:
Permits to visit Kosi Mouth, Bhanga Nek and Black Rock, are available from the reception office, limited number of permits are issued daily. Only 4x4 vehicles have access.
Swimming is prohibited in the Lake system.
General:
Firewood is not sold in the reserve, but can be purchased outside from the local communities.
Good relations between visitors to the area and community members are necessary.
No generators are permitted.
Firewood may not be gathered within the Park.
Petrol and diesel are available at Kwangwanase/Manguzi, 13 km from the reserve
No waterskiing, yachting, jet-skiing or other water sport is permitted.
Pets are not permitted.
It is an offence to pick, damage or remove any plant from the Park or to disturb, kill or remove any animal from the Park.
Speed limit in the resort is 15 km/h.
Firearms must be declared on arrival.
Any Questions?
We would be more than happy to help you. Give us a call or email us, and we will get back to you asap.
021 8135868
travel@toursa.com