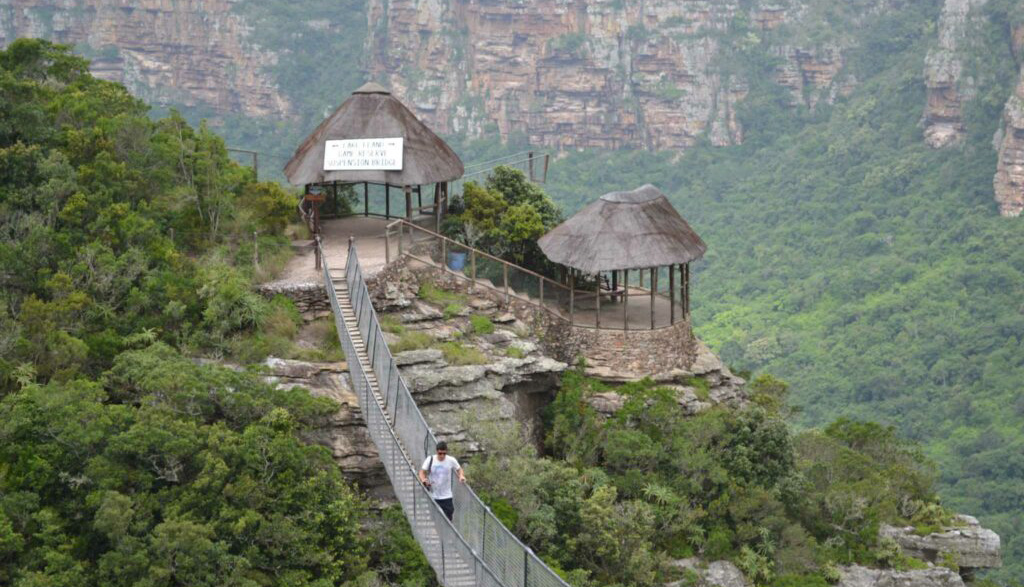 Oribi Gorge Nature Reserve
The scenic Oribi Gorge Nature Reserve is ±25 km inland from Port Shepstone. The Reserve lies snugly at the head of a magnificent river gorge lined with dense coastal bush and forests.
Carved out of ancient sandstone over millions over years, the resort commands an impressive view of the Gorge. The breath-taking scenery along the Umzimkulwana River Gorge makes this a photographer's and nature lover's paradise.
2 Bed Rest Hut (Self-catering)
Open plan bedroom with a bathroom. There is a communal kitche
6 Bed Chalet (Self-Catering)
A six-bed fully equipped self-catering chalet is also available
Campsites
There are 5 campsites with plug points. Each site accommodates six people and are suitable for tents or caravans. The ablution blocks have hot and cold water and a communal wash area.
Frequently Asked Questions
Activities:
Picnicking on the banks of the river, however, visitors are advised not to swim in the river because of the risk of contracting bilharzia.
Many delightful walks and self-guided trails to the scenic spots in the reserve have been laid out.
Private operators conduct a variety of activities in the area
Self-guided trails of the cliffs provide beautiful views of the surrounding countryside.
Gate Times:
The access gate to the resort is open 24 hours a day, summer and winter.
General Info:
Petrol and oil are available from the garage at Paddock, approximately 4 km from the resort
No pets are permitted in the reserve.
Guests are advised to bring drinking water, as the water supplied is from a borehole and although drinkable does have an unpleasant taste.
There is a local country produce shop in the town of Paddock with a variety of fresh produce and dairy products available. General supplies can also be obtained from Port Shepstone.
Visitors should always inform the Hospitality Manager of their proposed route when going on long walks.
Charcoal, firewood and cold drinks, are available at the curio shop in the resort.
Any Questions?
We would be more than happy to help you. Give us a call or email us, and we will get back to you asap.
021 8135868
travel@toursa.com